About Us
Bridgend Balti House is a Indian takeaway in Bridgend. Why don't you try our Mixed or Handi?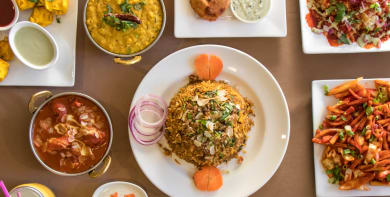 Reviews
173 reviews
Craig
"Very good food I would recommend to anyone"
28/06/2020
Alan
"Was early but very hot nice and tasty one of the best I've tasted thanks"
21/06/2020
Daniel
"Excellent food"
21/06/2020
Dave
"Really nice, plenty of food but they forgot my chips!"
01/06/2020
Menu
Tawa Chicken
Tender strips of chicken, delicately cooked in an iron pan for a lightly flavoursome dish
Medium hot
£7.10
Handi Chicken
A spicy hot dish cooked with baby mushrooms to our chef's own recipe
Hot
£7.00
Handi Lamb
A spicy hot dish cooked with baby mushrooms to our chef's own recipe
Hot
£7.00
Fish Curry Special
Indian fish cooked in a traditional style sauce
Medium strength
£6.90
Manchurian Chicken
Finely sliced chicken tikka toasted in butter, thick sweet & sour hot sauce with green chillies & herbs
£6.90
Lemon Chicken
Chef's own unique recipe
Medium hot
£7.00
Lemon Lamb
Chef's own unique recipe
Medium hot
£7.00
Fish Tikka Calcutta
Tender barbecued salmon cooked with a special Bengali bhuna style sauce
Medium hot
£7.10
Chef's Supreme Mix
Chicken tikka, chips & cheese
£5.30
Chicken Curry & Rice
Served in a tray
£5.50
Mushroom Bahar
Baby mushrooms cooked with fresh garlic, capsicum, tomatoes & spinach
£4.50
Vegetable Curry
Fresh mixed vegetables cooked in a curry sauce
£4.50
Vegetable Niramish
Fresh mixed vegetables cooked with onions & tomatoes, served fairly hot & dry
£4.50
Saag Paneer Medium
Cooked with cottage cheese & fresh herbs
£4.50
Saag Paneer Mild
Cooked with cottage cheese & fresh herbs
£4.50
Dhall Samba
Lentils with mixed vegetable
Medium
£5.00
Mottor Paneer Medium
Cooked with cottage cheese, green peas & fresh herbs
£4.50
Mottor Paneer Mild
Cooked with cottage cheese, green peas & fresh herbs
£4.50
Chicken Shashlik
Served with balti special sauce
£7.30
Bridgend Mixed Grill
Served with masala sauce & nan
£8.10
Fish & Paneer Shashlik
Served with Nepali style sauce
£8.30
Chilli Garlic Biryani Chicken
£7.20
Chilli Garlic Biryani Lamb
£7.20
Bridgend Special Biryani
Chicken, lamb & prawns decorated omelette
£7.50
King Prawn Sukka
Sweet, sour & hot
£4.90
Garlic Chicken
Delicately spiced succulent chicken skewered & grilled in the Tandoori oven, flavoured with garlic nutmeg
£3.80
House Tali
For 2 people.
Sheek kebab, onion bhaji, meat samosa, chicken tikka, lamb tikka, chicken tikka massala, lamb saag, mushroom bhaji, bombay aloo, special fried rice, salad, nan, raita, poppadom, chutney tray & dessert of pineapple fritter
£25.00
House Tali (for 4 People)
£44.99
Vegetarian Tali
For 2 people.
Vegetable samosa, onion bhaji, vegetable curry, mushroom massala, saag aloo, tarka dall, boiled rice, salad, garlic nan, raita, poppadom, chutney tray & dessert of pineapple fritter
£19.60
Chicken Tikka Jalfrezi
Hot
£6.50
Chicken Tikka Korma
Sweet & creamy
£6.50
Chicken Tikka Pathia
Sweet & sour
£6.50
Chicken Tikka Rogan
Medium dish topped with tomatoes & garlic
£6.50
Chicken Tikka Saag
Medium dish with spinach
£6.50
Bridgend Special Balti Nan
£2.60
King Prawn Kalia
Fresh king prawns cooked with green chillies, garlic, fresh potatoes & coriander, with a hot spicy sauce, a favourite dish of the fisher folk of Bengal
£8.40
Lamb Acharie
Pieces of lamb cooked in pickled spices with mustard & green chillies in a hot sauce
£6.40
Goa Chicken
Barbecued chicken cooked in a special Goan style tangy sauce
£6.40
Jaipuri Chicken
Cooked with special spices, mushrooms, green peppers, onions & fresh coriander
£6.40
Jaipuri Lamb
Cooked with special spices, mushrooms, green peppers, onions & fresh coriander
£6.40
Kahrai Chicken
Chicken or lamb pieces cooked in a blend of spices with onions, peppers & tomatoes
£6.40
Kahrai Lamb
Chicken or lamb pieces cooked in a blend of spices with onions, peppers & tomatoes
£6.40
King Prawns Bonani
Tangy dish cooked with chef's distinct blend of spices
Medium hot
£8.40
Chicken Tikka Bhuna
Diced boneless chicken pieces grilled over charcoal fire with chopped tomatoes, onions & green peppers
£6.50
Chilli Garlic Chameli Chicken
Cooked with fresh garlic, green chillies, onion, tomatoes & capsicums in a slightly hot spicy sauce
£6.50
Chilli Garlic Chameli Lamb
Cooked with fresh garlic, green chillies, onion, tomatoes & capsicums in a slightly hot spicy sauce
£6.50
Chicken Rezala
Barbecued chicken cooked with mince meat, fresh flavoured herbs & chefs special medium spices
£6.50
Moslini Chicken
Pieces of chicken or lamb cooked with oriental spices, highly flavoured very mild sauce
Mild
£6.50
Moslini Lamb
Pieces of chicken or lamb cooked with oriental spices, highly flavoured very mild sauce
Mild
£6.50
Muli Chicken
Boneless spring tandoori chicken, grilled then cooked with butter, tomatoes, mustard & onions served with a creamy sauce
£6.40
Lamb Rasa
A traditional Persian dish, tandoori lamb flavoured with coconut spices, cooked in purified butter & fresh cream
£6.40
Lucknowi Chicken
Diced chicken marinated in a special sauce, served with delicious Malayan sauce & coconut
£6.60
Fozli Chicken
Barbecued chicken cooked with mango pulp, yoghurt & mixed nuts, a slightly mild & sweet dish
£6.60
Chicken Chilli Masala
A hot & spicy dish, cooked with fresh green chillies
£6.60
Chicken Makhani
Barbecued chicken pieces, cooked in purified butter & cream to our chef's own recipe
£6.50
Tikka Masala Chicken
Baked chicken or lamb pieces in oriental spices, butter, ground almonds & fresh cream
£6.60
Tikka Masala Lamb
Baked chicken or lamb pieces in oriental spices, butter, ground almonds & fresh cream
£6.60
Nowabi Chicken
Mildly curried chicken mixed with almonds, pistachio nuts & cream
£6.40
Pasanda Chicken
Barbecued chicken pieces, cooked in purified butter & cream to our chef's own recipe
£6.50
Pasanda Lamb
Barbecued chicken pieces, cooked in purified butter & cream to our chef's own recipe
£6.50
Bridgend Balti Rice
Mixed vegetables & raisins
£2.80
House Special Rice
Basmati rice with minced meat & chickpeas
£3.50
Chicken Kulfi Balti with Naan
£7.50
Chicken Tikka Balti with Naan
£7.50
Chilli Garlic Balti Chicken
£7.50
Chef's Special Balti with Naan
Chicken, lamb, prawns, mushrooms & spinach
£7.90
Saag Balti with Naan Chicken
£7.50
Saag Balti with Naan Lamb
£7.50
Prawn Saag Balti with Naan
£7.50
Mushroom Balti with Naan Chicken
£7.50
Mushroom Balti with Naan Lamb
£7.50
Vegetable Balti with Naan
£6.40
Madras Chicken
Fairly hot
£5.40
Kashmir Chicken
Cooked with lychees, banana & pineapple in a mild sauce
Mild
£5.80
Kashmir Lamb
Cooked with lychees, banana & pineapple in a mild sauce
Mild
£5.80
Kashmir Prawn
Cooked with lychees, banana & pineapple in a mild sauce
Mild
£5.80
Korma Chicken
Cooked in coconut, butter, nuts & thick creamy sauce
£5.80
Korma Lamb
Cooked in coconut, butter, nuts & thick creamy sauce
£5.80
Korma Prawn
Cooked in coconut, butter, nuts & thick creamy sauce
£5.80
Dopiaza Chicken
Chunky onions with tomatoes & capsicums in a thick sauce
£5.80
Dopiaza Lamb
Chunky onions with tomatoes & capsicums in a thick sauce
£5.80
Dopiaza Prawn
Chunky onions with tomatoes & capsicums in a thick sauce
£5.80
Dansak Chicken
Cooked with lentils in a hot, sweet & sour sauce
Hot
£5.80
Dansak Lamb
Cooked with lentils in a hot, sweet & sour sauce
Hot
£5.80
Dansak Prawn
Cooked with lentils in a hot, sweet & sour sauce
Hot
£5.80
Bhuna Chicken
Cooked with onions, capsicums, tomatoes, coriander & medium spices in a thick sauce
£5.80
Bhuna Lamb
Cooked with onions, capsicums, tomatoes, coriander & medium spices in a thick sauce
£5.80
Bhuna Prawn
Cooked with onions, capsicums, tomatoes, coriander & medium spices in a thick sauce
£5.80
Saag Chicken
Cooked with spinach
£5.80
Saag Lamb
Cooked with spinach
£5.80
Saag Prawn
Cooked with spinach
£5.80
Pathia Chicken
Sweet & sour with fresh tomatoes & topped with lemon ring
Hot
£5.80
Pathia Lamb
Sweet & sour with fresh tomatoes & topped with lemon ring
Hot
£5.80
Pathia Prawn
Sweet & sour with fresh tomatoes & topped with lemon ring
Hot
£5.80
Rogan Josh - Chicken
Onions & capsicums topped with fresh tomato & garlic
£5.80
Rogan Lamb
Onions & capsicums topped with fresh tomato & garlic
£5.80
Rogan Prawn
Onions & capsicums topped with fresh tomato & garlic
£5.80
Mid Week Deal
Onion bhaji, chicken tikka massala, chicken curry, pilau rice, chips, poppadom, mint sauce & onion chutney (No discount on deal)
£16.90
Contact Us
Find Us
27 Market Street, Bridgend, CF311LJ
We deliver to
CF31, CF32, CF35